Kennedy-Donovan Center's 50th Anniversary Gala was a Night to Remember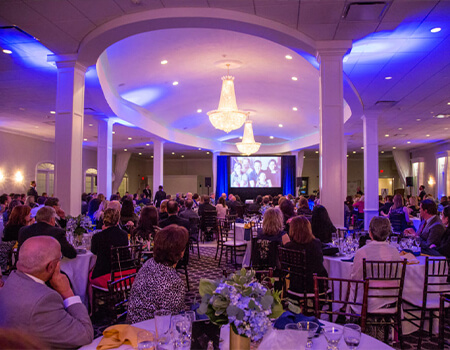 FOXBOROUGH, MA – June 6, 2019 – Kennedy-Donovan Center (KDC) a Massachusetts-based nonprofit organization that provides support to people with developmental delays and family challenges, announced that it raised $215,000 at its 50th Anniversary Gala.
The 50th Anniversary Gala was held on June 1, 2019 at Avenir in Walpole with all proceeds going to care for 10,000 families across Massachusetts and northeastern Connecticut. The event drew over 300 attendees, all of which were friends, supporters and staff.
KDC's President & CEO said "Saturday was such a spectacular evening for all of those who celebrated KDC with us," began N. Paul TonThat, CEO of KDC. "It was a time to not only reflect on all that KDC has accomplished during these last five decades, but it was a time to celebrate together and to continue to build momentum for the future."
Established in 1969 by Luella Hennessey Donovan, today KDC is a human services organization that provides a variety of programs and services; including Early Intervention, Applied Behavior Analysis, Foster Care, and more; to 160 communities in the Commonwealth of Massachusetts and northeast Connecticut.
Key sponsors for the evening included Presenting Sponsors, Bristol County Savings Bank and The TJX Companies; Leadership Sponsor, Webster Bank; and Advocacy Sponsor, DCD Automotive Holdings/BOCH. One of the special highlights of the evening was the keynote speaker, Mary Ellen Goodwin, who spoke about her family's experience with KDC that made such a positive impact in the family's life.
The Honorees of the evening was the Family of Luella Hennessey Donovan, including Ted Carr, Luella's great nephew and KDC Board Member. Tri-Chairs were Deb Felix of The TJX Companies, Anthony Karamas and Brad Pineault, both from Fidelity Investments.
---
About Kennedy-Donovan Center
Kennedy-Donovan Center is a 501(c)(3) non-profit human service agency providing a wide range of services to over 10,000 people with developmental delays, disabilities, or family challenges throughout eastern and south central Massachusetts, and the northeast corner of Connecticut. KDC serves 160 communities from ten program offices and sixteen residences with nearly 550 employees.
Contact: Amy Chaunt
Kennedy-Donovan Center
achaunt@kdc.org
508-772-1212