Early Intervention Partners with True Course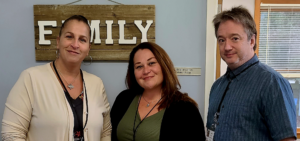 KDC's Early Intervention (EI) program in New Bedford has partnered with the Bristol County Sheriff's Office (BSCO). Laura Farley (Program Director), Tammy Silva (Assistant Program Director), and Glenn Masse (Clinical Supervisor) are collaborating with BCSO to help bridge the gap between incarcarated parents and those who have taken guardianship over their children during their sentence.
BCSO was awarded a 3-year grant from the federal government of more than $700,000 to expand their youth outreach program, True Course. Through the grant, parenting services are offered to those incarcerated and to those affected by incarceration who have children within the Bristol County area. The program helps provides a way for parents to build and nurture relationships with their children and co-parents.
"By collaborating with KDC, we hope to offer even more services and guidance to families with young children ages 0-3," says Alex Girouard, Parent Facilitator of the True Course program. "We at True Course are very excited about this collaboration and look forward to making a difference in the lives of everyone involved."
Laura Farley hopes the partnership will bring in new referrals to EI. "I am so excited to be able to participate in this amazing collaboration opportunity. To work with incarcerated parents and give them the support they feel they need to have a positive relationship with their child is an opportunity we couldn't pass up."
The program will start with up to 10 participants, and sessions are aimed to help parents with bonding, child development, and behavioral needs.
---
About Kennedy-Donovan Center
Kennedy-Donovan Center is a 501(c)(3) non-profit human service agency providing a wide range of direct and supportive services to those facing developmental delays, disabilities and other challenges throughout Central and Southeastern Massachusetts. KDC's 360 employees currently serve 7,500 children, adults and families living in 150 communities.
Contact:
Crystal Park
cpark@kdc.org
508.505.7423
Kennedy-Donovan Center
One Commercial Street
Foxboro, MA 02035