Kennedy-Donovan Center to Host First Annual Founder's Day to Kick off 50th Anniversary Celebration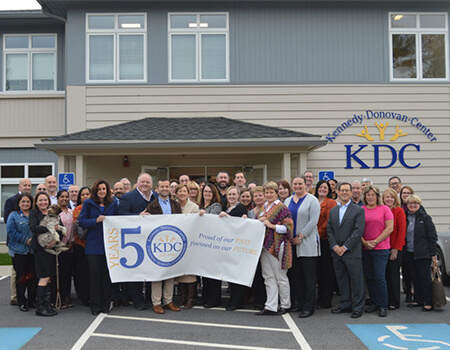 FOXBOROUGH, MA – October 22, 2018 – Kennedy-Donovan Center (KDC) announces first annual Founder's Day to kick off 50th anniversary celebration. The day will be a celebration of KDC's Founder, Luella Hennessey Donovan, as well as the amazing growth KDC has experienced during the last 50 years. Mary Beth Barnard, the assistant Town Manager of the Town of Foxborough will be presenting Ted Carr, Luella's great nephew, with a Proclamation declaring October 25th as KDC's Founder's Day. The ceremony will take place in Foxboro at KDC's administrative offices and KDC is excited to have new and long-time friends of the agency celebrate with us.
KDC was founded in 1969 by Luella Hennessy Donovan, who was the private nurse for Joseph and Rose Kennedy. Their daughter Rosemary had developmental disabilities and their wish was for her to have a typical life. Mrs. Donovan was inspired to open one of the first community-based educational and therapeutic programs for young children in Walpole. This would not have been possible without the generous three-year grant from the Joseph P. Kennedy Foundation. Luella started this program with four children in the basement of Blessed Sacrement School in Walpole. And today we support over 10,000 individuals and families in over 50% of the Commonwealth of Massachusetts, with a staff of 600 employees and 300 respite providers.
Ted Carr will be at the celebration along with other family members of Luella. "Lu left a strong legacy and I am honored to continue fulfilling her vision for the individuals KDC serves," said Ted. "Founder's Day is the start of another amazing 50 years for KDC!" The day will include breakfast, a speaking program, the unveiling of the 50th banner and more. This is just one of the many festivities happening throughout the year.
For more information regarding Founder's Day, please contact Maria Barbosa at mbarbosa@kdc.org. To learn more about KDC or to make a donation, visit www.kdc.org.
Details for community event calendar inclusion:
What: Kennedy-Donovan Center's Founder's Day Celebration
When: Thursday, October 25, 2018, 8:30 a.m. to 9:30 a.m.
Where: One Commercial Street, Foxboro, MA 02035
---
About Kennedy-Donovan Center
Kennedy-Donovan Center is a 501(c)(3) non-profit human service agency providing a wide range of direct and supportive services to over 10,000 people with developmental delays, disabilities, or family challenges throughout eastern and south central Massachusetts, and the northeast corner of Connecticut. KDC serves 160 communities from ten program offices and sixteen residences with nearly 600 employees.
Contact: Amy Chaunt
Kennedy-Donovan Center
achaunt@kdc.org
508-772-1212