Foxborough Police Department raising funds and awareness for Kennedy-Donovan Center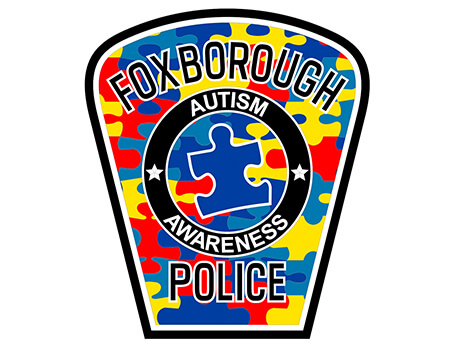 Foxboro, MA – March 12, 2019 – The Foxborough Police Department will be sporting an extra badge this month, as they raise funds for Kennedy-Donovan Center during Autism Awareness Month.
"The Foxborough Police Relief Association is grateful to have the opportunity to support such a worthy cause," said Detective Patrick Morrison with the Foxborough Police Department. "Thank you to those who have already purchased a patch and helped support this project." They have already received an overwhelming response from the community.
April is World Autism Month, and it is an opportunity to educate others, promote inclusion and hear success stories of those diagnosed with Autism Spectrum Disorder. KDC has an Applied Behavior Analysis (ABA) Program out of their Foxboro Offices, which provides support for individuals with Autism Spectrum Disorder, as well as their families, to pursue their personal potential and success in their homes and community. Individuals of all ages receive customized services using the principles of Applied Behavior Analysis, which is scientifically proven to be effective in the treatment of Autism Spectrum Disorder.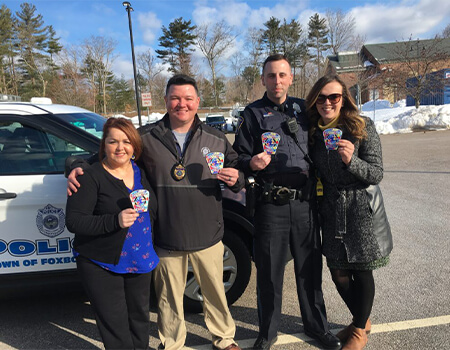 The Foxborough Police Relief Association will be selling these limited edition, Autism Awareness Patches as part of their public awareness campaign. The patches are on sale until the end of April and all of the proceeds will be donated to KDC.
Patches will be available for sale at the Foxborough Police Station, or by sending $10 per patch and a self-addressed stamped envelope to:
Foxborough Police Relief Association
8 Chestnut Street
Foxborough, MA 02035
---
About Kennedy-Donovan Center
Kennedy-Donovan Center is a 501(c)(3) non-profit human service agency providing a wide range of direct and supportive services to people with developmental delays or disabilities or family challenges throughout eastern and south central Massachusetts, and the northeast corner of Connecticut. KDC serves 160 communities from ten program offices and twelve residences with over 550 employees.
Contact: Amy Chaunt
Kennedy-Donovan Center
achaunt@kdc.org
508-772-1212