New Pilot Project Grows Foster Care & Family Services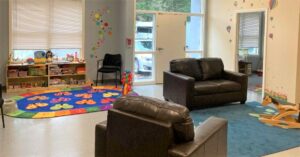 New Bedford, MA (January 12, 2021) — KDC's Foster Care & Family Services program grew in 2021 with the addition of the Family Visitation Center in New Bedford. This pilot project was in response to the challenge many families/non-custodial parents face when looking for safe and comfortable places to host visitation. The Center is available to our KDC Foster Care families, other local DCF families, and families requiring supervised visits due to court orders.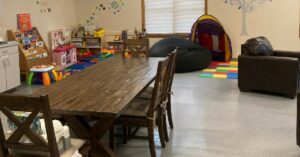 There are two rooms designed to promote the parent-child relationship. Non-custodial parents and their children can utilize a safe, community space along with a Supervised Visitation Facilitator who is able to provide documentation of observed parenting skills, hands-on parent support, and child transportation.
Special thanks to Foster Care team who recognized this important need and brought their vision to life!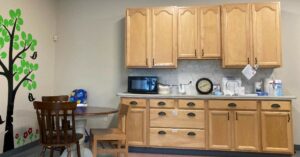 Furnishings were funded, in part, by a grant from BayCoast Bank.
---
About Kennedy-Donovan Center
Kennedy-Donovan Center is a 501(c)(3) non-profit human service agency providing a wide range of direct and supportive services to those facing developmental delays, disabilities and other challenges throughout Central and Southeastern Massachusetts. KDC's 336 employees currently serve 7,500 children, adults and families living in 150 communities.
Contact:
Crystal Park
cpark@kdc.org
508-772-1201
Kennedy-Donovan Center
One Commercial Street
Foxboro, MA 02035