Kennedy-Donovan Center to Host Open House for Special Education School in New Bedford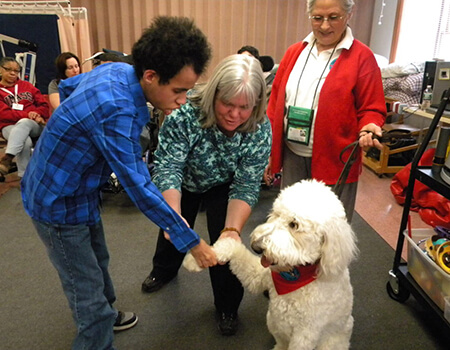 NEW BEDFORD, MA – April 26, 2018 – Kennedy-Donovan Center (KDC) is excited to announce their Open House and Tour Event for the Special Education School in New Bedford on Friday, May 11th, 2018 from 12:00pm – 3:00pm. We are opening our doors to the community and staff to come in and learn about what is fresh and new at KDC's School.
KDC Is also excited to announce the opening of its Early Childhood Classroom located inside KDC's School at 19 Hawthorn Street in New Bedford. KDC's School is a Chapter 766 approved private day school offering full day, year-round special education to students ages 3-22 years old. In spring 2017, KDC decided to begin a project to remodel a side room at the School and create an active classroom specifically designed for preschool and early childhood aged children.
This new Early Childhood Classroom will provide special education services for students ages 3-7 years old residing in communities within one-hour driving distance to KDC School. After many months of hard work and team effort, this older room once used as a Transportation Department Office, informal meeting place, and storage area is now transformed into a bright learning space for young children.
KDC School is unique:
Dedicated long-term team of teachers, nurses and therapists
Intensive clinical services and Board-Certified Behavior Analysts (BCBA)
FREE Behavioral Assessment
45-day Extended Evaluation Assessment
In-District School Consultation
Staff-to-student ratio of 1:2 or 1:1, if needed
Implementation of Positive Behavioral Supports (PBS)
Support for transition into adulthood
Individualized speech, occupational, and physical therapy
Affordable KDC Transportation options
Year-Round program/235 days
Adaptive Therapeutic Garden located on the premises
Providing students with updated technology and new communication devices to enhance independence
Students take part in a variety of community-based activities such as visits to the library, grocery store, parks, theater, community gardens, the YMCA, the Boys and Girls Club, and many other outings
Students also participate in cooking groups, music groups, and visits from a certified therapy dog
All are welcome to join the celebration of our work and ongoing support of students with behavior challenges, autism spectrum disorder, developmental disabilities, and medically complex conditions.
For more information regarding the Open House & Tour or KDC's Special Education School, please contact Kelley Medeiros at kmedeiros@kdc.org. To learn more about Kennedy-Donovan Center or to make a donation, visit www.kdc.org.
Details for community event calendar inclusion:
What: Kennedy-Donovan Center's Special Education School Open House & Tour
When: Friday, May 11, 2018 from Noon to 3:00pm
Where: 19 Hawthorn Street, New Bedford, MA
RSVP: Please call Kelley at 508-997-5875
---
About Kennedy-Donovan Center
Kennedy-Donovan Center is a 501(c)(3) non-profit human service agency providing a wide range of direct and supportive services to over 10,000 people with developmental delays, disabilities, or family challenges throughout eastern and south central Massachusetts, and the northeast corner of Connecticut. KDC serves 160 communities from ten program offices and sixteen residences with nearly 600 employees.
Contact: Amy Chaunt
Kennedy-Donovan Center
achaunt@kdc.org
508-772-1212