Ronald McDonald House Charities of Eastern New England donates $20,000 to KDC's New Bedford Programs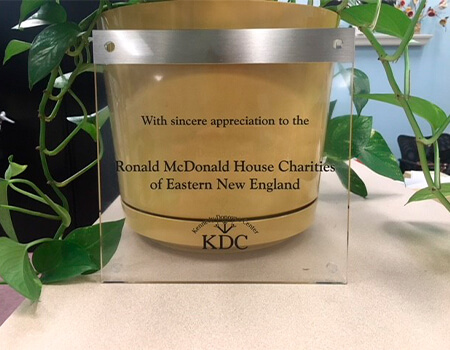 New Bedford, MA – June 6, 2018 – Ronald McDonald House Charities of Eastern New England (RMHC) presented a $20,000 grant to Kennedy-Donovan Center (KDC) to help support children and teens with developmental disabilities. This grant allowed KDC to purchase equipment, furnishings, and support the expansion of our therapeutic sensory room. The sensory room is utilized by nearly 1,350 children and teens at our Early Intervention Program and our Special Education School, both located in New Bedford.
"We are honored to support Kennedy-Donovan Center in New Bedford with their Sensory Room project, to help these very special children during a critical time in their development," said Karen McEachern, Executive Director at RMHC.
A sensory room is a space used to develop children's senses and treat hyper/hypo-sensitivities. Sensory rooms accomplish this by using specially designed lighting, soundproofing, and therapeutic toys and devices. Sensory rooms are a vital and effective part of treating sensory disorders in children. Based on our current program enrollment, we conservatively estimate that this project will serve over 110 children with sensory disorders per month for the next ten years; exceeding 12,000 children. The support from RMHC updated our current 350 foot sensory room and allowed us to double its size.
"KDC depends on the generosity of organizations like the RMHC; without their support our new sensory room would not be possible," said Chris Antao, Vice President of Development and Public Relations at KDC. "We can't thank RMHC enough for their generosity and support to our mission."
---
About Kennedy-Donovan Center
KDC is a 501(c)(3) non-profit human service agency providing a wide range of direct and supportive services to over 10,000 people with developmental delays, disabilities, or family challenges throughout eastern and south central Massachusetts, and the northeast corner of Connecticut. KDC serves over 50% of the Commonwealth, is in 160 communities from ten program offices and sixteen residences with nearly 600 employees.
Contact: Amy Chaunt
Kennedy-Donovan Center
achaunt@kdc.org
508-772-1212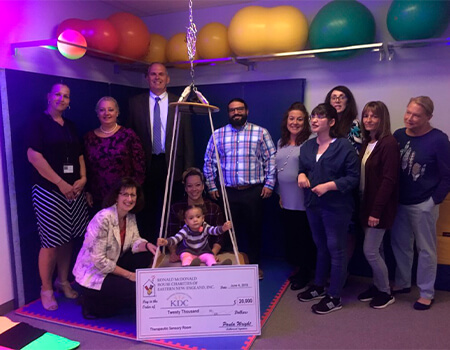 Pictured left to right: Laura Farley (KDC's New Bedford Early Intervention Program Director), Lynn Ciminello (Director of Operations at the Farren Organization), Karen McEachern (Executive Director at RMHC), Paul Farren (RMHC of ENE Board Member and local McDonald's Owner), Heather DeBrito (Early Intervention Parent), Gianna DeBrito (Daughter of Heather DeBrito), Christopher Antao (Vice President of Development & Public Relations at KDC), Karen Dobbins (Program Director at KDC's School), Macie Ferland (Student at KDC's School), Kelley Medeiros (Senior Director of Children Services), Charleen Ferland (KDC School Parent) and Connie Smith (Occupational Therapist at KDC)