The Gousie Family: Will my child ever say "I love you?"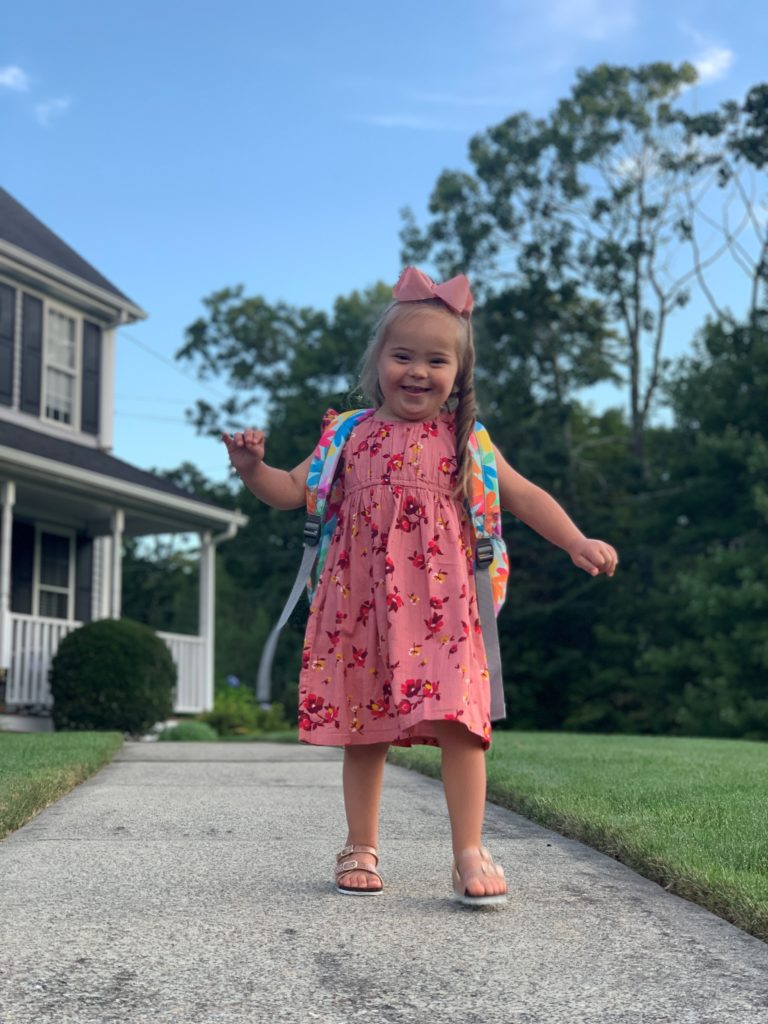 Derrah Gousie often wondered, "Will my child ever talk? Is she ever going to say 'I love you'?"
Derrah's daughter Cecelia was diagnosed with Down syndrome and referred to KDC's Attleboro Early Intervention (EI) Program as an infant.
There, Cecilia worked with a diverse team who focused on physical therapy, occupational therapy, and then her speech. Speech proved to be an early challenge for Cecelia, but not one that was impossible.
"My husband Matt and I knew that she wasn't going to get this overnight," said Derrah. "We continued to plug away until we saw success, small improvements even, and ensured that she was taking it at her own pace."
The family and Cecilia's EI team determined that Cecelia needed different tools to be successful, and that is when Cecelia started to learn sign language. She excelled at it. As she mastered sign language, she began to pay close attention to facial expressions and often watched lips. Soon she began to whisper words and sentences.
Derrah knew her daughter was capable of even more. And so did their Speech and Language Pathologist, Liz Hammerski, who has been working at KDC's Attleboro EI Program for over 25 years.
"It was obvious at the beginning that Cecilia had a lot to say, and she wanted to have a voice," said Liz. "She had communicative intent and picked up on sign language so quickly. Her language exploded!"
Liz reminded Cecelia's parents that expectations and abilities for people with Down syndrome can vary widely. In Liz's experience, some children enter the school district using primarily sign language as their main form of communication, while she has seen only a few children with Down syndrome begin to use some words as kindergarteners.
"But Cecelia was different. She is one of the highest-achieving children with Down syndrome that I have ever worked with," said Liz. "Her parents are always one step ahead… They work together seamlessly.It takes a village to raise a child, and it's amazing when you have a village like that."
Now Cecelia's speech is quite clear, and she is easily understood by teachers and others beyond her own family…
"Because of her speech team, Cecelia has a bright future ahead. That truly is because of the support she received at KDC's EI Program," said Derrah. "They were her biggest cheerleaders"
Even after Cecilia graduated from the EI Program at age three, Derrah and Matt still say that KDC is a driving force. They continue to use many of the teaching and therapy techniques that they learned from KDC in their everyday life with Cecelia.
"Parenting is hard regardless. There is no playbook. Things are going to be hard," said Derrah. "But I don't compare my daughter to any other child; she is her own person. When she reaches a milestone, I don't call my friends, because chances are their child already hit that milestone. I call her therapist, because they understand how important this achievement is. We celebrate every success together."
One of those milestones is the ABCs. Cecelia can now recite the full alphabet: something that seemed impossible before KDC came into her life.
"I cannot wait to come home and see her every single day… and to see that one little thing that she does today that she didn't do two days ago," said Derrah. "She truly is the gift that keeps on giving."